Lord Mayor's Celebrations 2017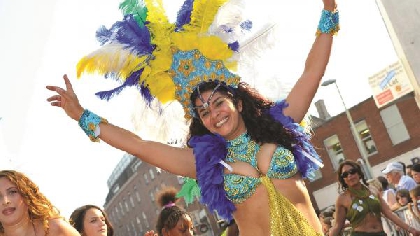 The Lord Mayor's Celebrations are returning to Norwich for three days from Friday 7th July 2017.
There will be three days of celebrations including a street procession on the Saturday, plus entertainers, fireworks, outdoor stages with music, dance and theatre, a funfair, craft and food markets, street fayre, duck races and lots more.
It's all part of the the city's biggest community celebration. Check out the full programme of events below!
Friday 7 July
Gas Hill Gasp - 7:15pm to 9:15pm
"Come Yew In" (outdoor show) - 7:30pm
Cirque Bordello - 8:45pm
Saturday 8 July
Tiddlybops - 11am to 5pm
The Lost River - 11am to 5pm
The Birdstage - 11am to 8pm
Funfair - 11am to 10pm
Zip wire - 11am to 10pm
Feast on the Street - 11am to 11pm
Lion's Den Bar - 11am to 10pm
Maui Waui - 11am to 10pm
Street performances - Midday to 10pm
Lord Mayor's Launch Pad - Midday to 10pm
Norwich Arts Centre Stage - Midday to 10:20pm
"Come Yew In" - 1pm
Water Balloon Toss - 3pm and 8pm
BBC Introducing - 3pm to 10pm
Lord Mayor's 5K Road Race - 4:45pm
Lord Mayor's Procession - 5pm (Viewing for people with disabilities is on Castle Meadow opposite Opie Street)
Time Machine Disco - 7pm and 8:45pm
Pirate Party - 8:30pm to 10pm
Fireworks viewing with music - 10:30pm (Viewing for people with disabilities is on the motorbike park in front of City Hall)
Sunday 9 July
Daybreak disco - 6am to 11am
Urban Art Fair - 11am to 4pm
Norwich Lanes Summer Fayre - Midday to 6pm
Funfair - Midday to 7pm
Norwich City Concert Band - Midday
Bishop of Norwich Open Gardens - 1pm to 5pm
"Come Yew In" - 2:30pm
Great Yarmouth Brass - 3pm
The Great Norwich Duck Race - 3pm
There's loads more information on the Norwich City Council website - and we'll see you there!
More from The Beat
How To Listen to The Beat

The Beat plays the COOLEST hits from the Nineties, Noughties And Now! There are so many different ways to listen! We're on DAB! Find us on your set now! Or, you can click "Listen Live on this site. Or find us on your favourite mobile streaming app!

The Beat Is Here

Your new radio station has arrived in Norwich, Beds, Herts and Bucks! We're gradually rolling the station out across parts of the UK, with two new areas coming very soon! Keep an eye on our updates for more information!!

Advertise with The Beat

Get YOUR message heard by thousands of listeners who are hungry to buy from YOU - friends of their favourite radio station! We won't just talk about you on the air, either.. All advertisers on The Beat get mentions on the timelines of our thousands of social media fans across various platforms!