Where will the new £1 coin be?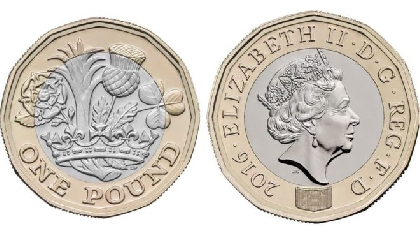 The new £1 coin launches tomorrow, but where can you get your hands on one?
Unfortunately, there are no banks stocking it at launch in our area but if you're travelling further afield you might find one.
Here's all the places the new coins will be available at their launch tomorrow:
ABERDEEN
CLYDESDALE 1 Queen's Cross, AB15 4XU
EDINBURGH
BARCLAYS 10-15 Princes Street, EH2 2AN
RBS 36 St Andrew Aquare, EH2 2AD
CLYDESDALE 83 George street, EH2 3ES
POST OFFICE 40 Frederick Street, EH2 1EY
GLASGOW
BANK OF SCOTLAND 167-201 Argyle Street, G2 8BU
CLYDESDALE 30St Vincent St G1 2HL
BELFAST
BANK OF IRELAND 4-8 High Street, BT1 5LR
ULSTER BANK 11-16 Donegall Square East, BT1 5UB
NEWCASTLE
NATWEST 16 Northumberland Street, NE1 7EL
YORK
POST OFFICE 22 Lendal, YO1 8DA
LEEDS
NATWEST Leeds City Centre 8 Park Row, LS1 5HD
YORKSHIRE BANK 94-96 Briggate, LS1 6NP
MANCHESTER
BARCLAYS 86-88 Market Street, M1 1PD
NATWEST 182 Deansgate, M3 3LY
POST OFFICE 26 Spring Gardens, M2 1BB
HSBC 2-4 Saint Anne's Square, M2 7HD
LIVERPOOL
NATWEST 22 Castle Street, L2 0UP
BIRMINGHAM
LLOYDS BANK 36/38 New Street, B2 4LP
POST OFFICE 1 Pinfold Street, B2 4AA
CARDIFF
BARCLAYS St Davids Centre, CF10 2DP
LLOYDS BANK 31 Queen Street, CF10 2AG
HSBC 15 Churchill Way, CF10 2HD
LONDON
BARCLAYS 2 Churchill Place, E14 5RB
NATWEST 1 Princes Street, EC2R 8BP
HALIFAX 33 Old Broad Street, EC2N 1HZ
POST OFFICE 24/28 William IV Street, WC2N 4DL
HSBC 103 Station Road, Edgeware, HA8 7J
SANTANDER 2 Triton Square, NW1 3AN, 164-167 Tottenham Court Road, W1T 7JE, 57 Streatham High Rd, SW16 1PN
SITTINGBOURNE
SANTANDER 106-108 High Street, ME10 4PP
BATH
POST OFFICE 27 Northgate Street, BA1 1AJ
Song information is currently unavailable.