Norwich Pride 2017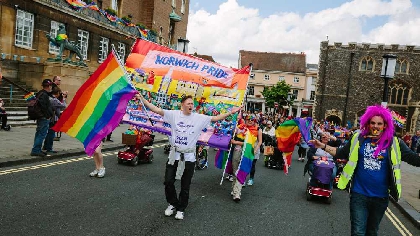 Norwich's biggest LGBT event is returning to the City Centre on Saturday 29th July, and it's going to be bigger and better than ever before!
Norwich Pride is a celebration of the LGBT community for everyone. Our mission is to ensure that Norwich is a city where everyone can feel safe and proud to be themselves.
Norwich Pride is a grass-roots, do-it-yourself celebration organised by a collective of friendly, creative and enthusiastic volunteers.
The event for 2017 will include:
Stalls at The Forum and in Chapelfield Gardens
Parade from City Hall to Chapelfield Gardens
Question Time – Putting the politics into Pride
Fabulous Stage Show
Lovely rainbow goodies to buy
Inclusive, free, family-friendly atmosphere
It takes many many volunteers to make Norwich Pride happen! The event is built on the help of our stewards and shop keepers, the people on the Pride Council, team leaders and volunteers, the performers and many others who help in small or big ways for Pride!
Check out the full programme and more details on the Norwich Pride website.
More from The Beat
The Beat Is Here

Your new radio station has arrived in Brighton, Birmingham, Norwich, Herts, Beds and Bucks! We're gradually rolling the station out across parts of the UK, with new areas being announced all the time! Keep an eye on our social media pages for more information!!

Advertise with The BEAT

Get YOUR message heard by thousands of listeners who are hungry to buy from YOU - friends of their favourite radio station! We won't just talk about you on the air, either.. All advertisers on The Beat get mentions on the timelines of our thousands of social media fans across various platforms!

Travel News

The Beat provides a comprehensive local travel news service for Beds, Herts and Bucks both on air and here on our website.